About St. Croix ► St. Croix Tour Guide
---
Click below for everything imaginable to Tour St. Croix.

---
History & Culture Ecology St. Croix Video Gallery
---
St. Croix History & Culture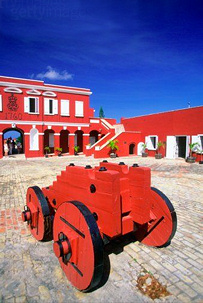 DID YOU KNOW... History abounds in St. Croix. The St. Croix Heritage Trail has been named one of the 50 National Millennium Legacy Trails in America. The St. Croix Heritage Trail is a 72-mile-long driving tour of historic sites on the island. Stops include architectural ruins, preservations and restorations of the 18th and 19th centuries including Fort Frederik, Fort Christianvaern, The Christiansted National Historic Site, Government House, and the Apothecary Museum, remnants of the once-bustling sugar industry including the Whim Plantation Museum, Lawaetz Family Museum, Estate La Grange, and the Cruzan Rum Factory.

The Trail also includes Point Udall, the easternmost point under the American flag and Columbus Landing where Columbus' fleet landed on his second voyage to the new world in 1493.

The Millennium Legacy Trails project is funded with a $520,000 grant by the National Endowment for the Arts and administered by the National Assembly of State Arts Agencies. The 50 trails are in 47 states, Puerto Rico, the District of Columbia and the Virgin Islands.

The St. Croix Heritage Trail is a public-private sector partnership with USVI Tourism, the St. Croix Chamber of Commerce and the St. Croix Landmarks Society. Other sites of interest include St Croix Leap where you can learn about the art of mahogany wood carving and botanical attractions such as Cruzan Gardens and the St. George Village Botanical Gardens.

---
St. Croix's Historical and Cultural Attractions:
---
St. Croix Weather Center
| | |
| --- | --- |
| | 7 Day Extended Forecasts |
---
Click Above for live streaming Video from Christiansted Harbor
---
---
AUGUST 6, 7 AM-3 PM
National Farmers Week Market
V.I. Department of Agriculture
Market Building
St. Croix celebrates its farmers! Come see & buy what's fresh in the V.I. Here's to your health! (340) 778-0997 www.vifresh.com
---
AUGUST 8, 11:30 AM-1 PM
Introduction to Ayurveda
Renuatum Spa
Ayurveda is an ancient healing system from India that dates back over 4000 years. In this workshop you will learn the basics of Ayurvedic theory as it is applied in everyday life. $15 (340) 718-2440 www.renuatumspa.com (Hit Yoga, then Workshops.)
---
AUGUST 13, 5:30-6:30 PM
National Park Lecture Series
Danish West India & Guinea Co. Warehouse
The National Park Service holds monthlylectures that discuss topics regarding current research at the Islands' three National Parks. Ft. Christiansvaern parking lot open till 7 pm. (340) 773-1460
---
AUGUST 15, 10 AM-12PM
FREE Snorkel Clinic
Cane Bay Beach
Calling all lovers of the sea, school kids to adults: Learn to snorkel or advance your skills. St. Croix Environmental Association provides snorkel instruction, gear, environmental education & light refreshments. Registration appreciated. Sponsored by Reef Jam. (340) 773-1989 www.stxenvironmental.org
---
JUNE 27, 7 PM
Movie Night
Ft. Christiansvaern
The National Park Service invites you to
bring a picnic & enjoy the movie. (Kindly
pack up any discards afterwards!) Bathrooms
& parking available. To see what's playing,
visit: facebook.com/stcroixmoviesatthefort. Free.
---
JUNE 29 – JULY 2
Discover St. Croix Camp
Estate Whim Museum
Week 1: My history starts with my family Camp for children 6-12. Sign up for 1 or More sessions. (340) 772-0598 www.stcroixlandmarks.org
---
---
---