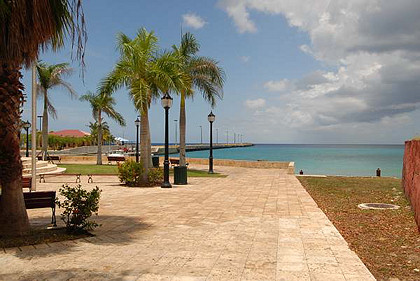 You will enjoy the natural beauty and charm of St.Croix and the port town of historic Frederiksted from the minute you set eyes on it.

St. Croix is one port of call where you will want to disembark and enjoy the island's laid back style, unique Danish architecture, and rich cultural heritage.

Stroll and visit the shops, eating establishments and historic areas of the two major towns, Frederiksted and Christiansted. Enjoy award winning coffee, expresso and food with fresh, local island ingredients. Try Polly's At The Pier Internet Café. Just 6 doors down from the cruise ship pier on the waterfront.

Take a tour or rent a car from Budget St. Croix to see the beaches, the rain forest and the inland historic sites like the St. George Botanical Gardens or the Whim Plantation. Tour a real rum factory, complete with product sampling. Go snorkeling the reefs off Frederiksted or Cane Bay or take a tour of the world famous Buck Island under water national park.

Experience the thrill of riding an all-terrain vehicle (ATV) on the mountain tops of St. Croix, with breath taking views of the surrounding ocean, historic plantation ruins, and the sub-tropical Rain Forest. Or cruise scenic byways on a bicycle to explore at your leisure. For scuba and snorkeling tours and equipment we recommend Cane Bay Dive Shop located across from the cruise ship pier.
Things to do in Port Click below
Dining & Nightlife in St. Croix
Shopping Duty Free in St. croix
Scuba and Snorkeling in St. Croix