DID YOU KNOW THAT... St. Croix is ringed by beaches of all shapes and sizes, some are long white sand stretches, others are small patches shaded by low sea grape trees and towering coconut palms. Some have smooth sandy bottoms ideal for swimming, and others have rock and coral-lined entries perfect for snorkeling!

Did you know... St. Croix is the only Caribbean Island where a diver can:
●Dive a wall that drops over 13,000 feet
●Dive a reef that is the largest living reef of any Caribbean Island
●Dive five wrecks that are within 100 yards of each other
●Dive a pier

A visit to St. Croix isn't complete without a visit to some of its spectacular beaches, there are to many to choose from. And, many are world-famous. Just click a beach below to view all the beauty that St. Croix has to offer.
3. THE BUCCANEER
Make a left at the Buccaneer sign off Rt. 82. At the Gate House, explain you would like to use the beach, and a per person fee of $4 will be charged. Follow signs to the beach, noting the charming shopping arcade, where you may enjoy browsing. (The beach and arcade are a nice pastime while others in your party play golf!) The Buccaneer beach provides true island atmosphere, and lunch is served at the Beachside, Mermaid and Beauregard's on the Beach Restaurants.

Resturants- Yes ¦ Restrooms- Yes ¦ Water Sports- Yes ¦ Fee- Yes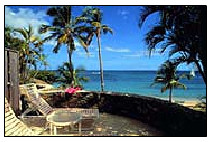 4. SHOYS
Instead of going into the Buccaneer, make a right, stopping at the Buccaneer Estates gate house, explaining you are going to the beach. Continue on the dirt road alongside the golf course until you come to the parking area. Across the road from the parking area is a rugged dirt path, and 150 yards later you are at one of the prettiest beaches on the island. Clear water, white sand and shady palms make this an ideal spot. The beach is ringed by private homes, and there are no food or personal facilities available. Please keep the beach clean. The east end of the beach is the best for swimming, the west end has great snorkeling.

Snorkeling- Yes ¦ Picnicking- Yes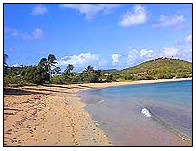 8. CRAMER'S PARK
Continue east on Rt. 82, past the St. Croix Yacht Club, taking a left side of the fork. Cramer's Park is a popular beach with Crucians, enjoyed by many families on the weekends. It's a great place for beginning snorkelers. Changing rooms, rest rooms, picnic tables, and food and drink are available. But this park can be very crowded and noisy on weekends.

Snorkeling- Yes ¦ Picnicking- Yes ¦ Resturants- No ¦ Restrooms- Yes ¦ Water Sports- No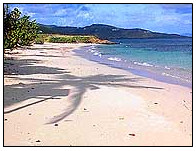 9. DIVI DIVI
At the fork on Rt. 82, instead of the left to Cramer's, take the right and go to the Divi Carina Resort Hotel. The beach is known for great snorkeling. Watersports equipment is for rent, and the hotel offers a bar and restaurant.

Resturants- Yes ¦ Restrooms- Yes ¦ Water Sports- Yes ¦ Snorkeling- Yes
---
---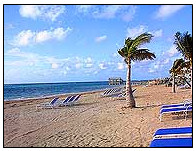 10. CANE BAY
From Christiansted, go west on Rt. 75 and make a right onto Rt. 80. This is a rather long drive, but the coastal road along St. Croix's northshore is very scenic and alone is worth the trip. The only turn to watch for is a little jag to the right (don't head uphill on Rt. 73). Soon you will come upon Cane Bay beach, across from Can Bay Plantation. Although the beach is not very wide, it is world renowned as an excellent snorkeling and scuba diving spot. About 1/4 mile offshore, the depth plunges to 1,000 feet, so divers merely swim out and "jump of the wall"! The beach is great for sunbathing, plus offers plenty of shade. The The Landing Beach bar and Restaurant is located adjacent to the beach. You can even choose to stay at one of Cane Bay Dive Shop's unique cottages nearby.

Resturants- Yes ¦ Scuba- Yes ¦ Snorkeling- Yes ¦ Picnicking- Yes
---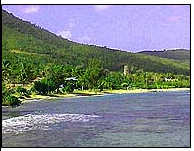 11. CARAMBOLA
At the junction of Rt. 69 and Rt. 80 a little past Cane Bay, is Davis Bay beach, which is part of the Carambola resort development. The gate house attendant will direct you to the beach. Davis Bay has a long, white sandy beach, and a surf with gentle rollers. unusual here on St. Croix. There is a beach bar, hotel restaurant and boutique. Most of the other hotel facilities , except the golf course, are not open to the public.

Resturants- Yes ¦ Restrooms- Yes ¦ Water Sports- Yes ¦ Scuba- Yes
---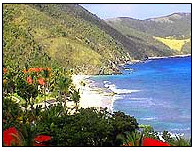 12. CHANGES IN L'ATTITUDE BEACH
Beach maintained by adjacent Bar and Grill. No charge for use of chairs and showers. A watersports center is located right on the Beach for all your snorkeling and Diving needs.

Resturants- Yes ¦ Restrooms- Yes ¦ Water Sports- Yes ¦ Snorkeling- Yes
---
---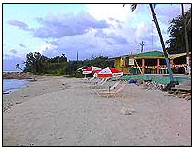 13. RAINBOW BEACH
Just a little further up the road, Rainbow charges no fee, and entrance to the beach is through the small open air restaurant. The soft white sand and clear water makes Rainbow a favorite, although shade is hard to come by. Jet skis are for rent.

Resturants- Yes ¦ Restrooms- Yes ¦ Water Sports- Yes ¦ Snorkeling- Yes
---
---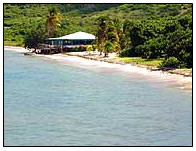 14. SPRAT HALL BEACH
Calm waters make for excellent swimming, and this is one of the few beaches where one may find shells.

Resturants- No¦ Restrooms- No ¦ Fee- No
---
---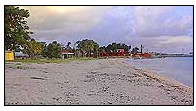 15. MONK'S BATH
Across from "Northside" and down the steps, the coral formation here have been hollowed out by years of continuous wave action. The snorkeling is excellent.

Snorkeling - Yes
---
---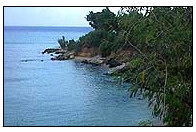 16. PELICAN COVE
Follow Route 75 west out of Christiansted. Make a right at Thrifty Car Rentals. Follow signs at end of road to The Palms at Pelican Cove Beach Club. Beautiful white sand beach, Great Views, Snorkeling and great food and drink at the adjoining Palms at Pelican Cove Beach Club.

Resturants- Yes ¦ Restrooms- Yes ¦ Water Sports- Yes ¦ Snorkeling- Yes
---
---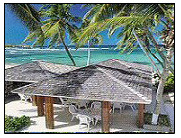 17. Tamarind Reef
Tamarind Reef- Go east on Rt. 82 (East End Road) past the entrance of the Buccaneer Hotel to the top of the hill where you will see the sign for Tamarind Reef and the Galleon Restaurant. Turn left, pass the gatehouse and go straight for about 1/2 mile until you see a second gatehouse on the right for the Tamarind Reef Hotel and Marina. Turn right into the marina and then make a hard left as you pass the marina gate house. Just before the hotel, make a right on to the stoned parking area by the boats. You can walk over to the beach. You'll find the Deep End Beach Bar there along with a beautiful palm tree lined beach with a drop dead gorgeous view. There's a beach shack at the far end where you can rent a thatched roof cabana, lounge chairs, snorkeling equipment and even kayaks. There is a caring and experienced attendent who will take care of your every need and point out the best snorkeling spots. Be sure to try lunch, a snack or your favorite liquid refreshment at the Deep End.

Snorkeling- Yes ¦ Picnicking- Yes ¦ Resturants- Yes ¦ Restrooms- Yes ¦ Water Sports- Yes ¦ Fee- Yes
---
---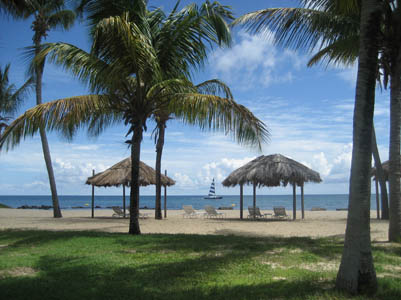 ---