Duty Free Shopping In St. Croix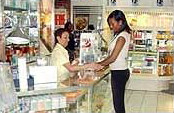 Did you know... Did you know... Shopping in St. Croix is a sight-seeing tour in itself! Quaint shops are tucked in historic buildings made of cut coral, molasses mortar, and Danish bricks brought as ballast on the trading ships of the 1700 and 1800s! Interesting shaded courtyards in these restored buildings house shopping arcades. Exploring is fun - there is treasure at every turn!

There's more great news - the currency is the US dollar, so no troublesome conversions. The prices are duty-free, there's no haggling, and there's no sales tax.! U.S. citizens are each allowed $1,200 duty-free, but locally made goods, such as artwork and hand-wrought jewelry, are exempt and don't even count towards your $1,200. And be sure to shop for great savings on liquor -- those 21 or older can take 5 fifths back duty-free, and a sixth if its one of the locally made rums! Do your own taste test at the Pina Colada window on Strand Street!