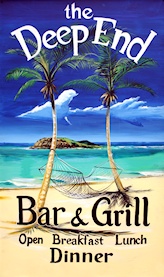 Tucked away between Tamarind Reef Resort & Spa and Green Cay Marina sits the Deep End serving breakfast, lunch, and dinner 7 days a week! Dine undercover, poolside, or on the beach all with a smashing view of the sea and Green Cay! With a great selection of tropical blender drinks and a diverse menu, there is something for everyone!

Come see us for Weeknight Specials -

MONDAY
MANGO BBQ RIBS Start your week off with our #1 seller! Our "fall off da bone" mango BBQ ribs start at 6PM AND Adrian on guitar from 6:30 - 9:30pm.

TUESDAY
"JAMAICAN ME CRAZY" $5 Planters Punch, Reggae Music & West Indian Specials like Jamaican Jerk Chicken & Johnny Cakes.

WEDNESDAY
BUDDY BURGER NIGHT For any Burger purchase, your buddy can get a second choice of any burger for half price!

THURSDAY
DISCO BINGO Bingo starts at 6:30 with $5 cards and DISCO DANCING (lights and all) between the five games. Final game the winner gets the cash pot! Reservations Required !

FRIDAY
FAMILY FUN Crab races for all ages begin at 5:30pm

SATURDAY
PRIME RIB NIGHT Prime Rib Dinner with our famous horseradish sauce! November - April we have live intertainment that includes Bill Bass on steel pans.

SUNDAY
BREAKFAST BRUNCH Brunch is served from 8am to 2pm with Steve Katz on Guitar From 11-2 from November - July. Always sports on our TVs.

SECOND
SUNDAY FUN DAY The Second Sunday of each month we will have A BIG BEACH PARTY that includes live music from 2-5pm. Check our Media New Page for updates
We specialize in private parties, weddings, receptions, and meetings oceanside!
RESERVATIONS HIGHLY RECOMMENDED