Featured Casual Eateries In St. Croix
---
Blue Water Terrace
Blue Water Terrace is one of St. Croix's newest and most spectacular open air sea view restaurants. Located on the East End Road at Cotton Valley, with a picturesque view over the blue Caribbean water toward Buck Island, Blue Water Terrace offers a view, meal and ambiance you will not soon forget.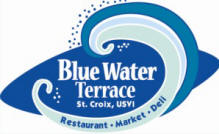 ---
Buccaneer Hotel Restaurants
Whether you want to enjoy a relaxed lunch at a casually elegant beachside restaurant or enjoy fine dining at the elegant Terrace in the great house, the historic Buccaneer caters to every need. Just across the terrace, The Terrace Lounge offers its spectacular views is a favorite gathering place for cocktails and conversation.

---
Carambola Beach Resort
The Flamboyant Lounge located at the Carambola Beach Resorts is nestled in a beautiful tropical setting offering lunch and dinner of seasonal pub fare and outdoor seating.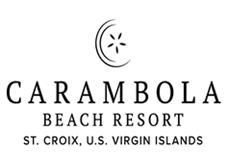 ---
---
The Landing Beach Bar
Located on one of St. Croix's best bathing, snorkelling and diving beaches and adjacent to one of the island's finest dive shops, The Landing Beach Bar @ cane bay is quickly establishing a new standard for casual culinary excellence.

---
The Deep End Bar & Grill - ALL NEW!

From Family Fun to Exciting Cuisine We've Got Something For Everyone. Dine under cover, poolside, or on the beach, all with a smashing sea view!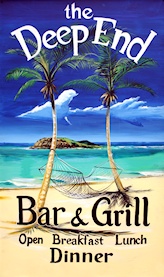 No Bones Cafe
This small intimate restaurant on the edge of Christiansted, in the Gallows Bay area, serves some of the best, most creative dishes, found on the island. Casual pub style food, great steaks, salads and seafood

---
Other Casual Eateries in St. Croix
Above The Cliff
Located on the beautiful North shore just East of Cane Bay. Come view the sea, have an ice cold beverage, enjoy some delicious smoked meats & fresh fish.
Located on the beautiful North shore just East of Cane Bay
340-718-1100
---
Angry Nates Boathouse & Seafood Emporium
They got Fish, fish and more fish! And they are also not Angry but delicious!
Christiansted Boardwalk
340-692-6283
---
Cafe Fresco
Great Rise & Shine Starters for breakfast including Great bagels and assorted cream chesses, oat meals and smoothies. Wonderful Afternoon eats. pleantiful sandwiches and soups.
Located in the Penthany Courtyard
Hours: 8 a.m.- 3 p.m.
---
LALITA Juice Bar & Health Food Restaurant
Enjoy the tranquility of the fountain at the Lalita Courtyard and Studio while enjoying delicious fruit and vegetable juices, smoothies, soups, salads, sandwiches, and raw food specials. Every item is made with only the finest and freshest ingredients.
KALIMA Center, #54 King St., Christiansted
340-719-4417
---
Maria's Cantina
Authentic Mexican food and sports bar located in Gallows Bay.Lunch and dinner Monday thru Saturday.
5032 Anchor Way, Arawak Building, Suite #1, Christiansted, VI, 00820
Phone: 340-713-0222
---
Polly's At The Pier
An Uptown Coffee Shop In Downtown Frederiksted . Located on the waterfront with award winning coffee and expresso and fresh made meals with local ingredients. Polly's is always local! Always fresh! And, Polly's is always fun, funky, and friendly. Free WiFi for customers.
340-719-WiFi (9434) 340-778-7201
#3 Strand Street (3 doors down from the pier), Frederiksted, St. Croix
---