Getting Around In St. Croix
Touring St Croix by car is easy and affordable. St Croix rental companies offer a wide range of vehicles including cars, jeeps, SUV's, and vans. Rental rates are generally less expensive than other islands and there is no sales tax. Gas is also less expensive than other islands and the US mainland. Why? A major oil & gasoline storage facility is located right on St Croix plus there are no expensive gasoline taxes.

Did you know... Island hopping from St Croix, for those that want to explore nearby island destinations, is fast, convenient and affordable. St. Croix offers just about everything you want in an island vacation. However, there are many wonderful experiences available on other nearby islands, most of which can be reached quickly by plane and the high speed Ferry.

St. Croix travelers may choose from a variety of transportation options, from buses to car rentals to limos. A full-service bus line operates throughout St. Croix. Taxi and Jeep services are readily available. Most taxi drivers are able to provide their passengers with comprehensive tours of their island. Taxi rates are based on destination rather than mileage and regulated by the US Virgin Islands Taxi Commission.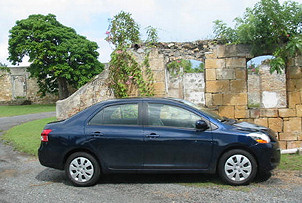 Driving on the left side of the road is only one of the differences you will experience while touring the island of St. Croix. The island is twenty eight miles in length and seven miles at the widest point with two major towns- Christiansted at the center on the North shore and Frederiksted at the West end. The Caribbean Sea which surrounds the island is always there to guide you along the roads that wind around the coast.

Car rental agencies have a variety of vehicles, jeeps and sedans and eight passenger vans. The average price usually includes unlimited mileage. You pay for gas. Both US and other driver's licenses are recognized. The driver and front seat passenger are required by law to use seat belts.

Parking in Christiansted is limited. There is daytime paid parking on Hospital Street next to the Fort, and on the West side of town at Strand and King Cross Streets. Major roads are asphalt and well-maintained. The Melvin H. Evans Highway is the only four lane divided highway, running from mid-island West to within one mile of Frederiksted and the speed limit is 55 MPH with sections that are 35 MPH. In rural areas the 35 MPH limit applies. In town, 20 MPH.