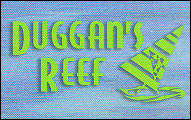 On the East End Road, at Teague Bay, overlooking the beach and Buck Island, you'll find the renowned Duggan's Reef. Proprietor Frank Duggan first arrived in St. Croix in January, 1975 after graduating from the University of Massachusetts, Amhurst. After a brief stint sailing the islands, he spent the next many years learning the restaurant business both in St. Croix and the New England area including working as a bartender at the Bull & Finch Pub in Boston, which later was made famous in the "Cheers" Television show. In May, 1983, Duggan's Reef opened.

The name came from the old John Wayne movie "Donovan's Reef". Now in its 18th season, it has become an East End institution. Over the years, many celebrities, sport figures, and political leaders have dined at Duggan's Reef. Among them are actors Bill Murray, Michael J. Fox, Steven Seagal, former Connecticut Governor Lowell Wieker, and Late Senator Ted Kennedy as well as former President George Bush. Former Red Sox (and current Astros) pitcher Roger Clemens liked it enough to come back three times. It is an informal, open-to-the-breeze spot famous for its various lobster dishes, "island style" fresh fish entrees, steaks and pasta.

When asked why the restaurant has been successful Frank says, "a strong knowledgeable staff with generous portions of food and drink. Over all-we like what we do and we hope it shows." It does! "The best beach front restaurant on St. Croix" - Esquire Magazine "Not to be missed" - Caribbean Travel and Life "Duggan seems to know everyone" - Fodor's Guide A St. Croix favorite for over 20 years featuring "fresh Fish and Lobster"!